Gabriela's Answers for Vogue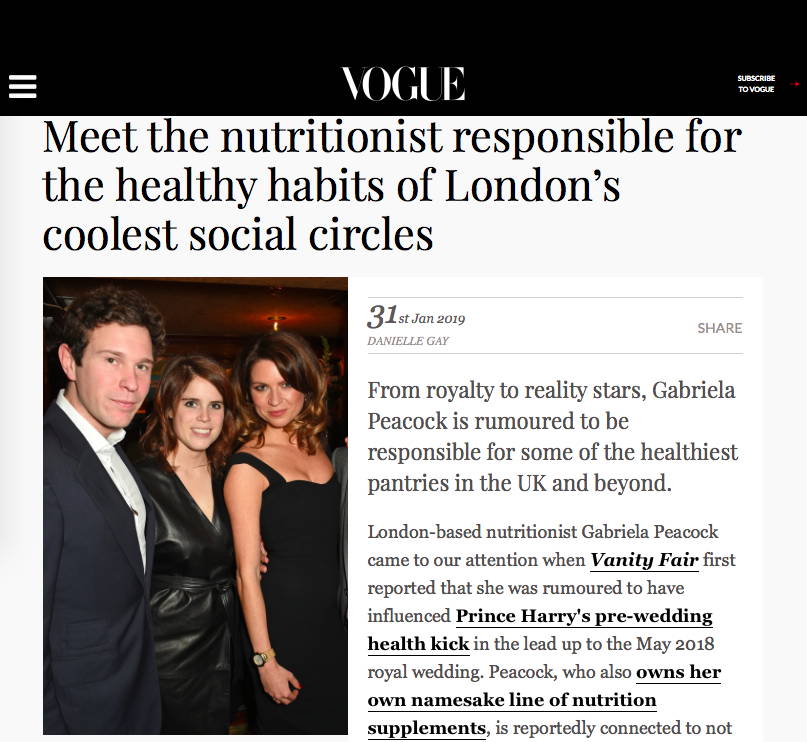 Gabriela Peacock has recently answered dropping questions for Vogue Australia. In case you missed it we summasided it below.
When you first start working with a client, what do you focus on?
"I take a detailed case history of their nutrition and lifestyle goals. First consultation takes about 90 minutes and enables lots of questions around what they eat, but also sleep, stress, hormonal health, digestive system so we can explore nutritional status from a functional medicine perspective. I like to get a typical day or two (24 to 48 hour recall) of what a client is eating and drinking too."
How would you describe your general approach?

"Finding ways to excite and interest people in food by finding out their likes and dislikes and building from them. I ensure my approach is client centred."
How can one prepare to look their best on their wedding day?

"Look at portion sizes and tweak if necessary. I encourage some strength training and anaerobic exercise to shift body composition. Avoid processed, refined, sugary foods as they can cause inflammation which in turn results in breakouts, and excess oil on the skin. Instead [I] encourage hydration, by drinking lots of water and try squeezing half a lemon into some warm water; add a little ginger and a teaspoonful of turmeric. This drink will cleanse your liver and will also start the digestive process. Ginger is an anti-inflammatory, which is good for the skin. [Also] eat lots of lean, quality proteins and healthy fats from oily fish and nuts and seeds plus plenty of vegetables for the high fibre content."
What are some ways to recover our health after a period of over-indulging – like say, during the festive season?

"Similar rehydration and don't neglect sleep. Sleep deprivation has been shown to lower levels of leptin – the appetite suppressing hormone, while increasing hunger, leaving us with a tendency to reach for carbohydrate dense, sweet and salty foods. Banish this by keeping your blood sugar balanced. That includes complex starchy carbohydrates (such as whole grains, oats and bran) with good quality protein (lean meat, fish, eggs or beans) at every meal and snack. Plan in the celebrations and nights out at parties around healthier meals and days off!"
What are some easy swaps to make during the party season?

"Confectionary is high in sugar and fat. Instead, choose some good quality high content dark chocolate (at least 70 per cent cocoa). It is higher in antioxidants and its bitter taste makes it hard to overeat. Cheese is high in fat so try to watch your portion sizes (a small matchbox size is the recommended portion!). It's not really the right time of year for a cleanse, but you could try and replace one or two meals on days off with green smoothies and healthy, protein-rich soups.
What are your tips for beating hangovers?

"At cocktail parties, intersperse alcoholic drinks with a non-alcoholic soda water with fresh lime, or mineral water, that way you are hydrating as well as reducing the volume of alcohol you consume. Always have something to eat before or during an evening of drinking. This helps to absorb the alcohol and minimise the effects the next day! Green tea is a source of catechins that have been shown to induce performance of detoxification enzymes. The polyphenols in green tea have exceptional antioxidant potential, which may limit the damaging effects of toxins on cells. Berries contain anthocyanins – they provide some of the colouring or pigment of plants, flowers and fruits with a typical red to blue colour. They are very potent antioxidants, free radical scavengers and they up-regulate liver function. Look out for blueberries, blackberries, raspberries, blackcurrant, bilberries, cherries and red grapes."
Discover Gabriela's bestselling supplements: